Real-life Stories/Samantha R.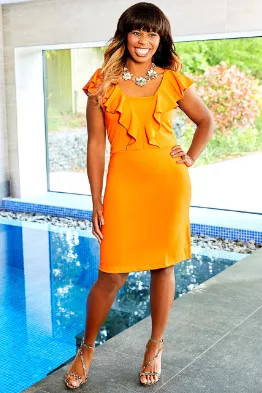 'How I broke that vicious guilt-and-crash-diet cycle'
Fed up with her old boom-and-bust weight loss methods, Samantha Rose turned to a healthier, more sustainable approach. Now, she's slimmed down to her dream weight – and she knows how to stay there!
Samantha R., 42
Starting weight: 169 lbs
Weight now: 143.5 lbs
Height: 5 ft 4ins
Swishing a beautiful black fishtail dress in front of me, I gazed into the shop mirror. It was floor-length and perfect for my daughter Ebonee's 21st birthday party, which was a few months away in March. I didn't try it on, as I knew it wouldn't fit – I was deliberately buying it two sizes too small, my tried-and-tested trick for getting into shape.
That had always been the way for me: picking a goal dress, event, or holiday to slim down for. Then, I'd steel myself for weeks of restrictive calorie counting and intensive sessions of weightlifting and running. I'd got into plenty of slinky outfits that way, though I'd always have the stress of whether I'd manage it in time. And the moment the event was over or I was lying on a sun lounger, I'd breathe a huge sigh of relief as I stopped getting up early to exercise and happily indulged in all the food I'd been denying myself. Weeks later, I'd be right back where I'd started.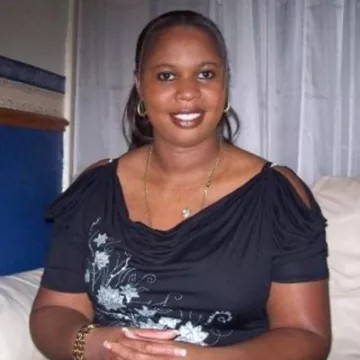 "In the past, losing weight had always meant depriving myself."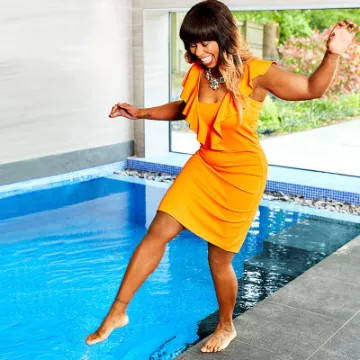 "What I love most about the iBODY is the focus on the target area in just 20 minutes daily!"
As it happened, I never needed to get into that dress. Ebonee's party was canceled when we went into lockdown in March 2020, and as soon as the 'stay at home' order came, my motivation drained away like water down a plughole. I went back to the comfort of our usual dinners, followed by a bag of jelly sweets to perk up my evenings stuck on the sofa. Usually, I'd have gone out on five-mile runs with my running club, but with meet-ups suspended, I didn't feel like exercising. And with no parties or holidays to aim for, I soon regained the 28 lbs I'd worked so hard to lose.
TIME TO TRY SOMETHING NEW!
As the new year approached, with tough tier-four lockdowns in place across most of the country, I started thinking ahead to when we'd all be enjoying some normality again. I pictured going back to work, out with friends, on dinner dates with my husband, Ewan, and, most importantly, throwing a great 22nd birthday party for Ebonee to make up for the last one being canceled! Finally, I might get to wear that black strapless dress. But after nearly a year at home in loungewear, and making (and eating!) every cheesecake recipe I could get my hands on, I knew I wouldn't be coming out of lockdown feeling my best... and I certainly wouldn't fit into that dress!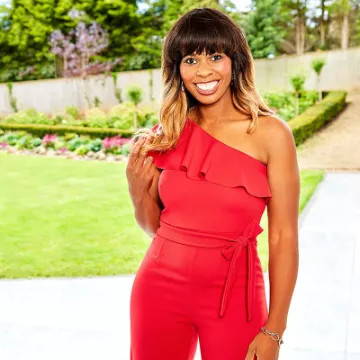 "I felt amazing. I couldn't quite believe all the size 10s were zipping up so easily!"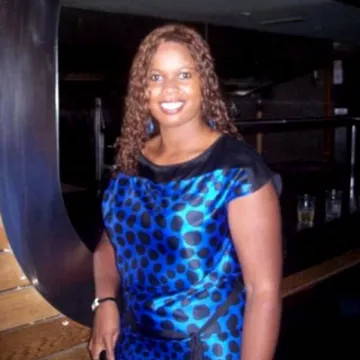 "I'd been dreading this night out and I remember feeling so uncomfortable, but I hit it with a smile."
Lots of my friends raved about the iBODY and had always recommended it, so I decided I'd give it a go. I committed to a 12-week Countdown. It started on 29th December and ended just in time for Ebonee's birthday and, hopefully, her postponed party. I got inspiration from listening to everybody else talk about their journeys. For the first time in years, we sat down to eat together every night. Before, we'd each make something fast and easy for ourselves and eat separately. Now, the iBODY was bringing my little family of three together, and it felt good to know they were eating really well – and enjoying it, too.
Using the iBODY meant the world to me and helped me realize that some extra pounds didn't have to be all or nothing!
In the past, I'd go hardcore with my dieting and then burn out… until it was time for the next crash diet. It had been a vicious circle, underscored by immense guilt and blaming myself for not sticking to it. I'd found it a hard cycle to break, but the iBODY was changing me from the inside out!
As week 12 approached and my target weight drew closer, I loved not feeling exhausted, hungry, or self-conscious!
In fact, I was 42, and I felt the best I had in years. We were still in lockdown and, for a second year, Ebonee's birthday party had to be postponed. Instead, Ewan and I decided to celebrate my hitting my target with a romantic dinner date in the garden, so we could both dress up. I pulled that gorgeous size-10 fishtail dress out of the wardrobe and was thrilled when it slipped on and clung to my trim new shape in all the right places. I felt so glamorous and confident. We enjoyed a meal by candlelight out on the patio.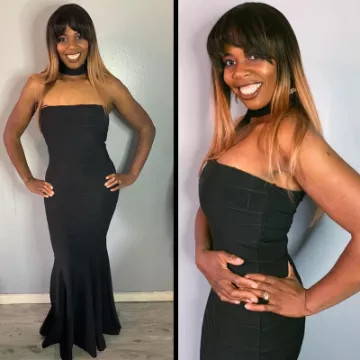 "It is the dress. I think my smile says it all!"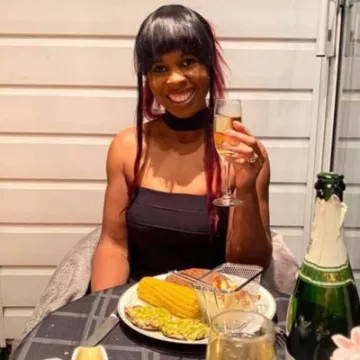 "Celebrating hitting target, date-night dinner in the garden."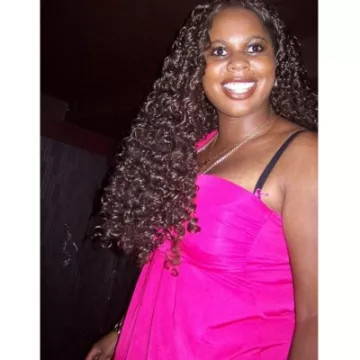 "My extreme diet-and-exercise regimes were exhausting. And as soon as the night out or holiday rolled around, I'd go back to my old habits."
Now that I've ticked off my dream weight. Honestly, I wish I'd used it years earlier. I've no idea why I left it so long before trying the iBODY, but now I'm here, I'm with it for the long run!
*Weight loss will vary according to your individual circumstances and how much weight you have to lose.